Here we have provided Instagram bio for krishna bhakt, shree krishna bio for Instagram, radha krishna bio, radhe radhe Instagram bio and more Instagram bios that you can copy and add to your Instagram profile.
Hello friends, welcome to Coolbio.org, today we have brought for you Krishna Bio For Instagram. This post is special for shree Krishna bhakts.
All shree Krishna bhakts like to add Krishna bio on their Instagram profile, that's why here we have shared Krishna Bio For Instagram. Choose your favorite bio and update your Instagram bio now.
If you like this bios, then definitely share this post further and comment for more such bio.
Best Krishna Bio For Instagram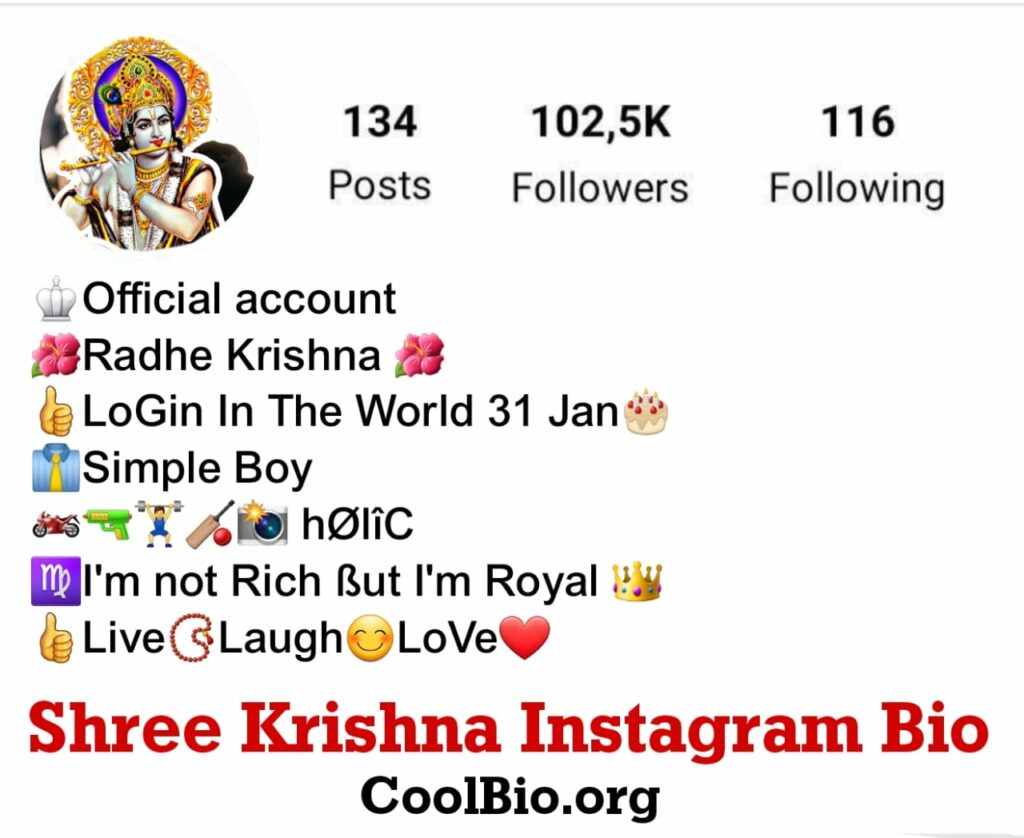 💖Krishna 🌀 Bhakt⚡
|ब्राह्मण |🙏
|Single|😅
|Party 7 dec|🍺
|PhotoholiC|📷
|Lifestyle|❤️
|SpeeD_LOVeR 🏁
🙏Radhe Krishna ❤️
😘 Proud to be " Hindu" 😎
🎂Wish me 👉9 June 🎂
📚 Student 🎓
🏅🏅 Champion 🏆🏆
👻 i hate छोरी छापरी
||RAJKUMAR||
Bhakt of Lord Shree Krishna 🙏
Wish me on 👉2 May 🎂
Lifeline👉Mom +dad🌍
Selfieholic🤳
My fav..😍💕cricket🏏
Happy Because Single 😁
बहुत खूबसूरत है 😍
मेरे ख्यालों की दुनिया 🌎
बस कृष्ण 🙏से शुरू
और कृष्ण पर ही खत्म 🖤
😀Launched on 13 OCT🍰
😉Gujju Boy😉
😘Happiest Person 👻
💂Proud 2 be INDIAN🇮🇳💂
🙏Jay Shree Krishna 🙏
😙Har_Har_MAHADEV💀
👉 😈Attitude boy😈 👉
↘|| कृष्ण सदा सहायते || ↙
👉 🙏 मान- मर्यादा -मोभो 🙏
👉 🙏 वट- वचन -वीरता 🙏
👉 🙏वीर -भोग्या- वसुंधरा 🙏
👨‍•Mr Perfect 😉
📷 •Photography Lover
🏏 •Cricket My Fav
🎂 •Cake Kill on 31 May😝
♥️ •Love=Mom+Dad😘
🙏 •RaDheKriShNa 💖
Name ✨♥️
Simple Girl❤️
The story starts on Oct 28 🍰🍰
Traveller 🌍
I love swimming💛🌊🌚
😎Attitude Depends On You 😎
better to stay away
🙏 Dhwarikadhish 🙏
जब सुकून ना मिले ❤️
दिखावे की बस्ती में👇
तब खो जाना 🙏
मेरे श्याम की मस्ती में 🖤
Radha Krishna Bio For Instagram
♔Official account
🌺Radha Krishna 🌺
👍LoGin In The World 31 Jan🎂
👔Simple Boy
🏍🔫🏋️‍♂️🏏📸 hØlîC
♍I'm not Rich ßut I'm Royal 👑
👍Live📿Laugh😊LoVe❤
Your name🖤
📍Diamond 💎
😘cake murder oct 15🎁
👉❤️ Radha Krishna ❤️👈
👉I Love Dwarka Nagari 😘
💞 Garba King 💓
अजीब नशा है 😘 अजीब खुमारी है😇
हमे कोई रोग नहीं बस 🌷
जय श्री राधे कृष्णा🙏
राधे कृष्णा बोलने बीमारी है ☝️
👉Basketball Player 🏀
👉Wish me on 16 feb🎂
👉Big fan Of Shree Krishna 👏
👉Music + Gym 🎵
👉Krishna sada shayate
Garba King_❤️🦁
🍫 β' DAY 17 Jan
Hare krishna🌻
Fashion Model 😎👔
👉Hate me
👉or Date Me
The lucky princess will be waiting for me
❤RaDhe KriShNa❤
👉 Kshatriya ⚔️
💋LoVe Maa papa🌍
🐾Animal LovEr🐶🐱🐩
🌍DuNiya Mei AyE 25-DeC Ko😅
🙈BaKi JanKari Ke Liye SamParK KaRe😆
↔INDIAN BANDA🙏
↔B'DAY COME ON 12/10🎂
↔DAD MOM IS MY HEARTBEAT👪
↔APNA DREAM SUPER STAR💭
↔PHOTOGRAPHY📸
↔GYM LOVER🏋️
↔JAY SHREE KRISHNA 💖
👉Entry on 8th August🎂
👉Family says: જેવો દેખાય છે તેવો નથી😉
👉Dad'S Biggest Fan😘
👉Love Radhe Krishna 💗
👉Nick name : Tiger👊
👉Royal👑Hindu😍
👉Royal_Entery 13🎂fab
👉m🎼usic🕺lover📖
👉highs↕️5.7″
👉photo🤳graphy 📷
👉Dost👬forever,
👉mom & dad✌ka👪diwana
👉Radhe Krishna 🙏
Must Read
कृष्ण सदा सहायते Instagram Bio
🙏 कृष्ण सदा सहायते ❤️
👑Believer, Dreamer 😉
🔥 Gym Freak…👈
🎶Crazy For…Rapper✌
🎀Searching my queen😜
📷Photoholic📷
🎂Blessed on 14 March🎉
Tufaani Kanudo 😉
Pagal Dewana😜
Cow Lover😘
Romantic by nature 😚
Helping Hands 💓
Wish me On 20 Feb😚
|| कृष्ण सदा सहायते ||
😁Cute Kameena😁
📸PhotoHolic 📸
🏍Speed Lover🏍
👸I Love My Queen K👸
♥️ Cricket Addict 🏏
🙏Bhakt Of Lord Krishna 😇
💞कृष्ण सदा सहायते🙏
🙏कृष्ण सदा सहायत🕉
😍Mom Dad + Pagli 😘
❣️Big Dreamer😍
👻Happy Soul🥰
😇Attitude 🚫
🎂Miss Me On💌14 Jan😇
🔹️प्रबुद्ध व्यक्ति सिवाय ईश्वर के🔸️
🔹️किसी और पर निर्भर नहीं करता🔸️
💗Jay Shree Krishna💗
👉Kanudo
👔Student
👉📷Photoholic📷
👉🔥Figher
👉😋Cute 😎Hot😂Funny
👉😊Bhakt Of Shree Krishna 😃
Radhe Radhe Instagram Bio
《🙏Radhe Radhe🙏》
《💝Mom + Dad 💖my world💝》
《💝 Friends Forever 💞》
《🎂Birthday 2 Nov🎂 》
《💝Music lover🎶》
《😎Selfie star📱》
《💝Gamer🎮》
🚩Royal Maratha 👑
|| कृष्ण सदा सहायते ||
👑96 k मराठा⛳
👉गर्व आहे कृष्णभक्त आहे याचा 👈
👉पुणेकर👈
🌺Radhe Radhe 🌺
👉 MA_Ka_LADLA😇
👉 BDY_16_Oct🎂💥💣
👉 MUSIC_LOVER🎧🎶🎵
👉 Raipur_KA_Chhora😎👑
👉 Proud_To_Be_Hindu🚩
👉 No❌PYAR🚫Mohobbat
👉 🔫KūशाLपुR_के_चीते 🔪
SINGLE👨
SMARTY😎
SWAGY😜
ATTiTuDE😏
COol😉
MuSic❤🎵🎵
HOOKAH❤
❤My_Self #AK❤
🚩Big village
🚩Jaisalmer🔫
🚩Royal Banna😄
🚩Being Rajput Blood🌟
🚩Jay Shree Krishna🙏
🚩Royal Attitude
🍰Wish Me On 29 Feb
प्रभु खोजने से नहीं मिलते…😇
उसमें "खो – जाने" से मिलते है…!
!! 🙏जय श्री कृष्णा🙏 !!
->Cute Kameena 👍
->SPEED LOVER🚗
->Mathura🏠
->29 JUNE🎂
->SONG LOVER😘
->कृष्ण सदा सहायते🙏
->DON'T TRUST ANY ONE❌
🙏Hare Krishna 🙏
🎂wish me on 🍰4 Aug
💪Gym ka shokin 😎
👉 Photoholic 😍📸
☝belive – Shri Krishna 💖
👉Waiting for my queen 👸
🌟Radhe Radhe 🙏
🌟Do☺What😁Makes😃U😊Happy😂
🌟LOgIn iN eArTh oN 27 Nov🎂
🌟INoCeEnT Boy👦
🌟Singal💗
🌟Fitness_FrEaK💪
🌟Bhagwat Gita 💖
Krishna Bio For Instagram For Girls
Shalini…🤗
"Beach lover🌴
Day Dreamer😍🌟
Dancing is my passion❤💃
Sports Løvèr 🏏⚽❤
Travelling😍
Radhe Krishna 😘❤️
Name ✽
14 Nov 🎂
Delhi📍
🌸 Be Silly Be Honest Be Kind 🌸️
Believe in Shree Krishna… ‼️❤
Krishna🌸
My😍 life😘 is
My❣️mom❣️dad
My🥰favourite😍is
Garba💃dance
Pizza 🍕 lover
Radhe Krishna 🙏😇
☺Simple Girl ❣
💖Krishna 🌺
Born on JULY 21🥰
Love painting🖌
🎨 and skating ⛸
Book lover❤📚
😍Passion: Travelling
From INDIA👉🇮🇳👈
Navya🌸
👑 mumbaikar👑
Wish me… 17feb
..🎵Music addicted..
living my dreams🌈
Believe in Krishna 🖤⚡
🦋butterfly
Goodvibes only💜
💃 Dance_Lover💃
😉 Crazy 4 Dance😉
😘 Love my Bestie😘
💗 Single_💗
🍕 Pizza_Lover🍕
🚩Jay Shree Krishna
🌸name
🎂Kill_23ţh_Šèp
Bhakt of_ shree Krishna 🔚
✨Believes in "Krishna"
Everything "U Do" Comes
Back to U…………….. 🖤💫
😎 Miss Salini 😇
🎭 I ❤️ my Family 😆
😘 Dandiya lover 😍
🎁 Wish me on 11 august 🎂
🌇 Live in Dwarka 🌆
📖 B.B.A. student 📓
😇 Jay Shree Krishna 😆
Related Posts