Here we have listed love bio for Instagram, Instagram bio for couples, cute love Instagram bio and more Instagram bio ideas that you can copy and add to your Instagram profile.
Hello friends, welcome to Coolbio.org, today we have brought for you best love bio for Instagram.
Many couples like to add love bio on their Instagram profile, that's why here we have shared Instagram bio for lovers and couples. Choose your favorite bio and update your Instagram bio now.
Friends, if you like this bios, then definitely share this post further and comment for more such bio.
Love Bio For Instagram 2023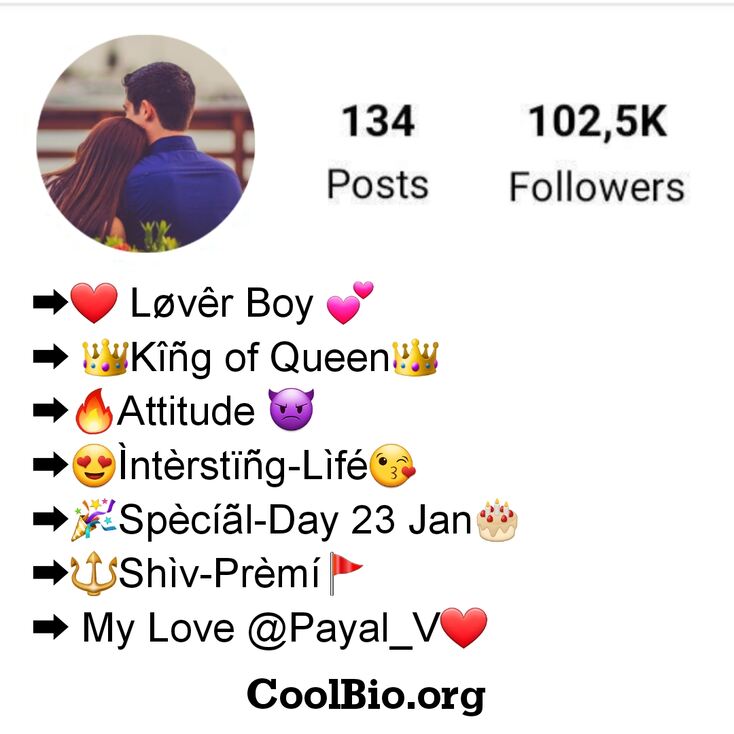 मेरा एक ‪DiL ❤ ️‍है
जो तेरे ‪PAss‬ है 🥰
उसे संभाल‬ के रखना ‪Dear, जान,
वरना‬ तेरा भी दिल है जो मेरे PAss है. 😎
King And Queen ❤️
I'm in love with J💞
Fitness Freak 🖤
Mom Dad + Pagli❤️
I Hate Cheaters!! 🙄🖕
Royal entry on 25 May 🎂
Ziddi Sehzada 👑
Need A Sehzadi ♥
Paisa Bahut Hai 🔥
School ka Fighter 😎
Music & Cricket 🔊
Duke Lover 🔥
DSLR 📷
Cake Murder 31 Dec🎂
🔸 ना कोई Pari 👸 चाहिए
🔸 ना कोई Miss World चाहिए
🔸 मुझे तो 💖 PagLi तेरे 👰 जेसी
🔸 दिल मे बसने वाली
🔸 Simple सी
🔸 Queen 👰 चाहिए
BEAcH KINg 🏄
❤Im In Love ❤
😍My Queen @Name😍
👑Kîñg👑
😎 Badmash ☝️
😍Ìntèrstïñg-Lìfé😘
🎉Spècíãl-31 Dêç🎂
मेरी भगवान से यही दुआ है 🥰
कि मेरी उम्र तुम से एक दिन कम हो😅
ताकि मैं तुम्हारे बिना ना रहूँ ❤️
Prince 💕 Princess 🤴
🎂Cake Murder on 8th Jan
Let's create a world 🌇
only we are both 👫
and we both love❤️❤️
Cute couple 😍
Happy Becouse @username
Love u Forever ❤️
My Love 💕 👪 & 👰
🏡 Mumbaikar 🏡
🎂B🎂day»19 May
💪 Fitness Lover💪
🏍KTM Rider 🏍
🎶Music + Photoshoot
🚩Har Har Mahadev🚩
😢1sT Cry On 21th Jan🤣
I love my Pagli 😘 S 😘
Crazy on 😍
Our love story 😘
photoHolic 📸
Music Addict 😘
Hak Se Mingle 😘
Instagram Bio For Couples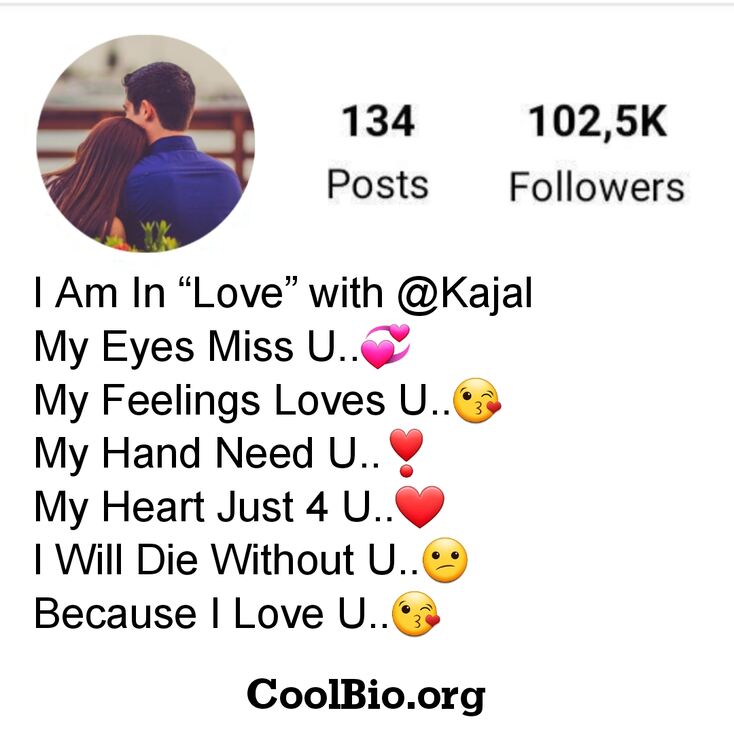 》Mr Perfect ✌️
♥️Villan Enrty On 2 Feb😈
》 Already in Relationship
❤️My Love @name
》Simple Boy😉
♥️Free Minded 💓
》🚫 Atţįťųđę 😎
🧡 I Love My Wife 😍‌
Love Addicted……😎😎..
Born on July 27 🎂
Music lover🎵🎼🎵
Friendship Goals 😍😘😋
Attitude King 😎😉
Name 🖤 KinG👑
Love only Mom Dad❤️
No Need Babu Sona 👑
😎SînGle
👍LoGin In The World 17 April 🎂
😊Bhakt of MAHAKAL 😘
➡❤ Løvêr Boy 💕
➡ 👑Kîñg of Queen👑
➡🔥Attitude 👿
➡😍Ìntèrstïñg-Lìfé😘
➡🎉Spècíãl-Day 23 Jan🎂
➡🔱Shìv-Prèmí🚩
➡ My Love @username❤
RAJKUMAR_👑
👉15 October 🎂♥️
👉Mom +Dad🌍
😍💕Cricket My DNA
❤️ I'm in Love with @name
Happy Soul 👻
😰 Papa Ka Sir Dard 😀
😍 Maa Ka Ladla 😘
😀 Kamina Friends Ki Jaan 😘
❤️ Lifeline @username ❤️
😄 Bindasss Life 😄
😊 Killer Attitude 😄
👻 Special Day 12 Feb🎂
👑Queen Ka KinG👑
😊Lifeline @username😊
🤔Think To High🤨
😎Big Dreamer 😎
❤Friends 4ever 👍
🖤Black Lover 🖤
Mr. & Mrs. 💏
Our Love Story…❤
We love traveling
We love Nature 💟
We love our life
Life is beautiful 🌹
Because U 😍
List Of Best Instagram Bio For Love
I am so blessed, I found my best friend in my love. 💖
I will love you forever @username ❤️
I'm in love with you and i know it. 😎
Please let me be crazy in your love. 🖤
Your smile is the key to my heart. 💖🗝️
Love with you is just like dreams come true. 😍
My Heart is always your. 🥰
Love, trust, honesty, long relationship. 👩‍❤️‍👨
I know my love is real so it will never end.
In life I need only you! 🥲
I am happy anywhere with you and sad anywhere without you. 💕
Hold my hand, and i'll go anywhere with you. ❣️
I want to be your last everything. ☝️
Best thing about love, it happens suddenly.🥰
All love stories are beautiful but ours is my favorite.😘
My heart is perfect because you are inside. 👩‍❤️‍💋‍👨
Instagram Love Bio Ideas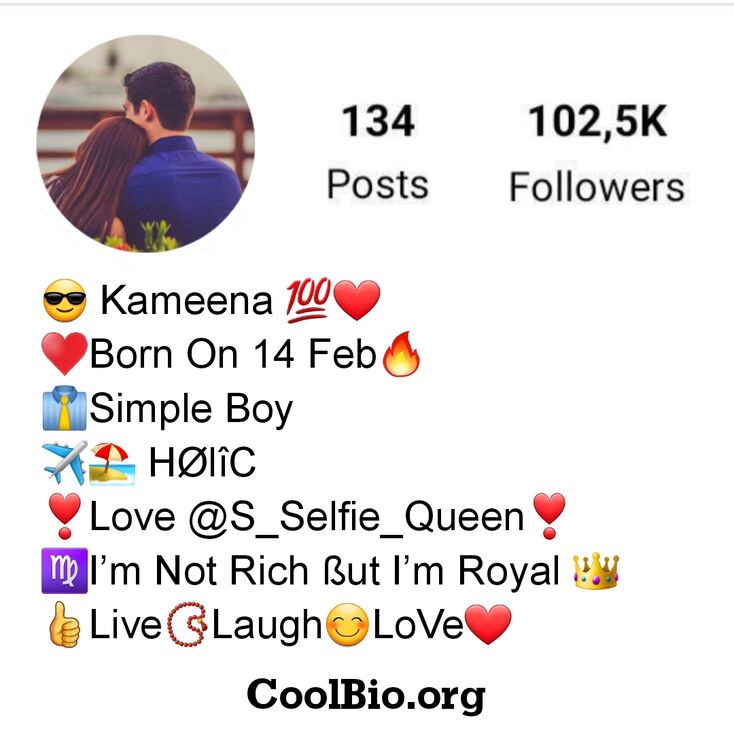 😎 Kameena 💯❤️
♥️Born On 14 Feb🔥
Love u Zindagi 🖤✈️🏖️ HØlîC
❣️Love @username❣️
♍I'm Not Rich ßut I'm Royal 👑
👍Live📿Laugh😊LoVe❤
Desi BOy😎
❤I Love my GF ❣️
King 👑 Of
My Selfie queen🤳
hØlîC 📸🏍️🏏⚽🥅
😈 Sometimes
Cake kill on 17 Sep 🎂
दिल में तेरी चाहत ❤️
लबो पे तेरा नाम है 😘
तू मोहब्बत कर या ना कर ❤️
मेरी ज़िन्दगी "तेरे नाम" है 💝
Love u @username
♥️Welcome To My Profile ♥️
😍 Lovely BoY😍
💕 I'm in Love with 💕name💕
✨ Happy Becouse 🖤
✨@username 🖤👸
👼Baby Lover👼
Cute Couple 😝
🍰 Cake_Kill 20 March
Life_line_@username 💞😘
Love U 💕 K 🥰
Hume nahi dekha to kuch nhi dekha 😎
💕Cute Kameena👻
🎂 CaKe MurDer 1st Dec🎂
😘 Photoshoot LoVer 😘
💑 Mom + Dad =World🌏
😘 LiFeLine @username 😘
📷 DSLR LoVeR📷
मैं तुमसे Love करता हूँ 🖤
इसलिए नहीं की तुम Cute हो
बल्कि इसलिए क्योंकि 👇
तुम्हारा दिल खूबसूरत है 😍
🙈Mingle
😍SelfieHolic
❣️8teen
😋Foody
😍Love Pagli😜
💙Blue Lover
❤Soft Hearted
🎶Music Addicte
Must Read
Love Bio For Instagram in Hindi
Perfect Couple वही जो 👩‍❤️‍💋‍👨
एक दुसरे के बिना रह ना सके 💕
अगर चोट एक को लगे 🥲
तो दर्द दूसरा सह ना सके 🥰
मेरी मोहब्बत 💓
की हद ना तय कर पाओगे तुम 💕
तुम्हे 👉 साँसों से भी ज्यादा
💑 करते है Pyàar हम 🥰
तुम आँखों की 😍
पलकों जैसे हो गए हो 😊
की आपसे मिले बिना ❤️
सुकून ही नहीं आता 😍
क्या क्या तेरे नाम लिखूं 🖋️
दिल लिखूं की Jaan 🌹लिखूं
आंसू चुरा के तेरी प्यारी आँखों से 😘
अपनी हर ख़ुशी तेरे नाम लिखूं ❤️
तुम्हारी फ़िक्र है 😘
मुझे कोई शक नहीं 🌹
तुम्हे कोई और देखते 👁️
किसी को हक़ नहीं 😎
रिश्ता वो नहीं होता ❌
जो दुनिया को दिखाया जाता है 😇
रिश्ता वह होता है 👩‍❤️‍👨
जिसे दिल से निभाया जाता है ❣️
मेरी हर सांस में तू है 🖤
मेरी हर खुशी में तू है 🖤
तेरे बिन Jindagi कुछ भी नहीं ☝️
क्योंकि मेरे पूरी जिंदगी ही तू है 😘
बहुत छोटी हैं मेरे ख्वाहिशों की List 📝
पहली भी तुम👸🏻
और आख़री भी तुम😘
Cute Instagram Bio For Lovers
Princess 👑
My love❤️
My hero😎
My world🌏
My Everything💓
Love you jaan @username…😘
👉 Heartking😘
👉 Sharif 😝 🙌
👉 Ae 💗 He Mushkil 💖
👉 Crazy Lover 😜 ☝️
👉 Always happy 😂
👉 No Attitude 😁 माँ का Lal 🙋
👉 Miss me on 12th July
KonG is Here 👑
★★★
⚠🔞⚠
InstaHolic 👑
₦Ø 💉💊🍻🚬
Gym❤️Lover
Farmer🎋🚜
Already In Relationship 😍
My Love my jaan @username
मुझे लगता था कि 😄
Perfect Couple 👩‍❤️‍👨
सिर्फ फिल्मों और
कहानियों में ही होते हैं😬
तुमसे मिलने के बाद देख भी लिया 😘
🧏 Simple Sa Cute Ladka🥰
👑My Life
🔥My Rule
😎My Attitude
☝️ Crazy 🤭
🥰 Happy Bcoz @username💕
🖤 Photography ❤️
😎Royal Hindu 👑
🎂Wish me on 9th Jan🎂
🙋Love you Babu Sona 😝
📷 photoHolic 🎸
🎼Music lover❤️
👑 Gym Freak 👑
🏡Lucknow
👉Love You @username👈
😎Lofer._Boy🖕
Football lover ⚽
Music lover 🎵🎶🎼
FUN lover😆😆😉
Food lover🍦🍰🍗🍔
Car lover🚘🚘🚔🚔
Dog lover🐕🐶🐩
Wish me on 1st July🍃🌞
My Love❤ @shalu
🎂Special Day 22 Nov 🎂
😎Love my Jaan @username 😘
💕 बाप्पा Lover😘
❤ photoHolic ❤
🔩Gym lover😘
Best Couple Bio For Instagram
👉 Romantic Guy😘
👉 Shiv Bhakt🙌
👉 No Need 💖
👉 Badmash Boy ☝️
👉 Already in Love ✨B😉
👉 Cake Kill On 8 Jan
👉 Keep Smiling 😁
♡ख्वाहिश इतनी है कि कुछ ▪︎
♡ऐसा मेरे नसीब में हो ▪︎
♡वक्त चाहे जैसा भी हो ▪︎
♡बस तू मेरे करीब हो ▪︎
💞Love Forever @username♥️
👑Attitude KiNg😎
🎶Music + Gym 🏋️‍♂️
😌Big Dreamer 💰
🕉️Big Bhakt Of Mahakal🙏
↪️Royal Entry 23 Feb🎉
Love करना सिखा है….🌹
नफरतो का कोई जगह नही 😊
बस तु ही तु है मेरे दिल मे ❤️
दूसरा कोई और नही☝️🥰
I Am In "Love" with @username
My Eyes Miss U..💞
My Feelings Loves U..😘
My Hand Need U..❣️
My Heart Just 4 U..❤️
I Will Die Without U..😕
Because I Love U..😘
👉Mr Kheladi 😎
🔥Born On 14 Nov
👔 Unique Persnality
🖤 Chess ♟️ Lover ❤️
👑 King 👑 QUEEN 👑
❤️My Love @username🔹️
👍Live📿Laugh😊LoVe❤
कौन कहता है तेरी 👩‍🦰
खुबसूरती मे दम है..
Dear.. पगली दुनिया तुझे
इसलिये देखती है 😎
क्योंकि तेरे आशिक 💏 हम हैं
My Lifeline @username
Perfect Couple 💙👫
Happiest Person 💖
Love You Forever 🎭
DREAMER 💭
My Favourite Place Is
Inside Your Hug 💖
Related Posts